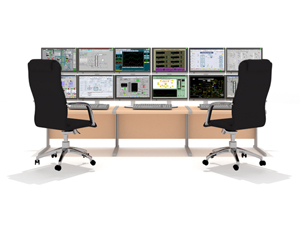 Distributed Control System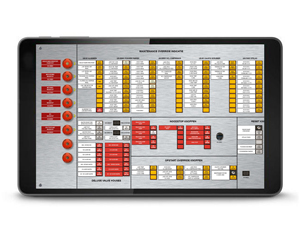 Push Button Panel
Process Model
Real or Virtual Plant
Evaluation and Certification Tools
Process Model
The core of the Operator Training Simulator and it represents a tailor made dynamic process model of your Plant or part of Your Plant. Dynamic process models are made to certain levels of fidelity and according to that the Operator Training Simulator can be:
Low Fidelity Operator Training Simulator
Medium Fidelity Operator Training Simulator
High Fidelity Operator Training Simulator
The higher the level of fidelity the response of the simulator is more realistic and therefore operator training is more challenging. The Dynamic Process Model is built in Mobatec Modeller which makes it very flexible and it can be easily detached from the simulator and used for Research and Development purposes.
An exact copy of an existing DCS in your plant. Our process models are flexible and therefore they are able to connect to any DCS software (e.g. Emerson DeltaV, Yokogawa Centum CS 3000, Honeywell Experion, Schneider Electric Foxboro, Siemens PCS7, etc.) making the training life like experience for control room operators.
Distributed Control System
Real or Virtual Plant
Mobatec Complete Operator Training Simulator enables crew training in which both field and control room operators can train simultenously or independently. This is achieved by using the actual plant or a virtual 3D model of your plant as an adition to the Distributed Control System connected to a dynamic process model.
Use of the real plant is achieved through the use of Smart Tags (find out more
here
) which gives the field operator "Real Reality" experience during training.
In case of a virtual plant a 3D model of the plant is built in which the field operator can use wide range of tools (from game pad, to virtual reality domes). To find out more about 3D models and immersive operator training please visit this
page
.
A touchscreen action panel that is also an exact copy of the one in the real plant. Pulse button, latch button, rotating switch… Anything can be a part of the simulated action panels which are created from pictures of the existing panels.
Annunciator Panel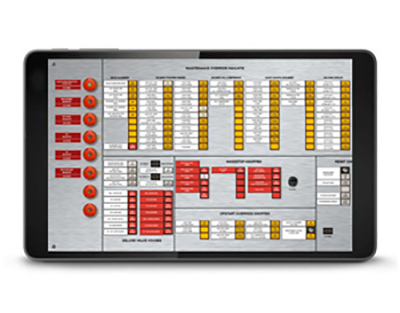 Evaluation and Certification Tools
With Mobatec Complete Operator Training Simulator you will be able to make certification programs for operator, keeping their skills sharp and your plant operation smooth. We are constanly improving our tools and from that we have developed operator training evalution tools which help you see how well your operators perform. This tool is tailored to your simulator and it records the training.